Last modified on August 10th, 2021
By Stephanie Mitchell
At AppFolio, we know that great people make a great company, and we not only value diversity in backgrounds and perspectives, but count on it to make our culture thrive and drive deeper customer connections. 
Each February, Black History Month gives us an opportunity to reflect on and celebrate the efforts and achievements of African Americans throughout U.S. history. In years past, we've gathered in our offices – from Santa Barbara to San Diego, Dallas, and Boston – to share food, music, and stories that teach, remind, and inspire us about Black history. While the current remote work environment has changed how we celebrate, it hasn't dampened our team's enthusiasm or intentions.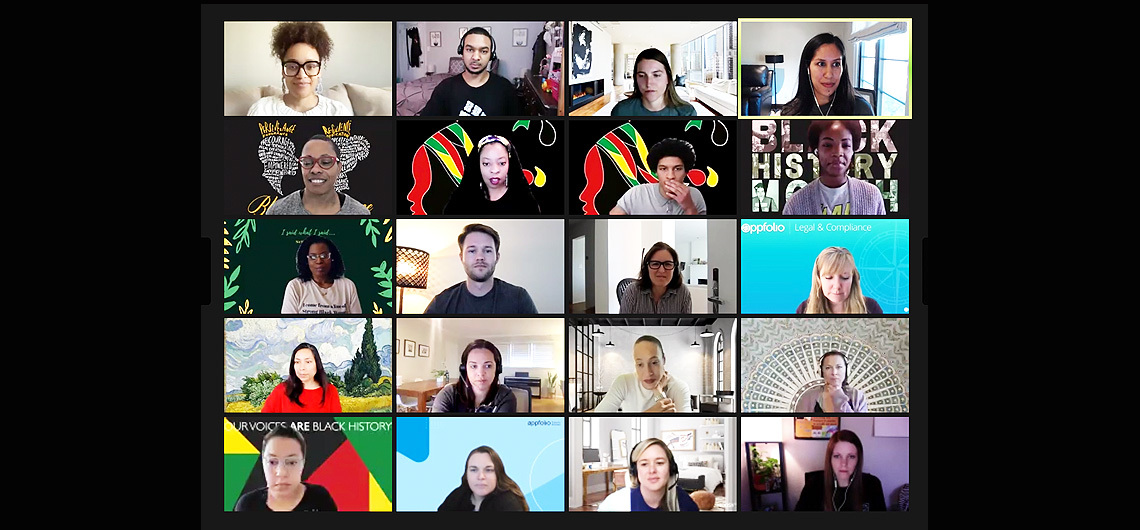 AppFolio's employee-led diversity group recently hosted a virtual learning event for employees in honor of Black History Month. AppFolians engaged with Lauren Whiteman, an educator, trainer, and writer who focuses on advocacy, community involvement, and people development. Among her many insights: "Black history is being made everyday. It's a living, breathing, developing thing." 
Lauren also shared five actionable practices that all individuals – regardless of race – can take to support diversity, inclusion, and equity at their organization: 
Be authentic. Embrace the discomfort we may feel in order to bring our true selves to work each day. When we do, it enables future generations to push even further ahead. 

Live, not just exist. It's easy to get weighed down by our day-to-day responsibilities. But we owe it to ourselves – and to each other – to be fully present so that we can maximize our potential.  

Be tenacious. This applies personally, professionally, and communally. Dedication is nothing more than hard work plus patience. 

Mentorship matters. Whether you're on the giving or receiving end, mentoring relationships matter. Recognize that not everyone knows how to ask for help or has practice doing it, and encourage patience and empathy.

Solidarity. Focus on day-to-day community building and small victories, and avoid getting bogged down by detractors. 
We were also joined by a panel of Black AppFolio employees, who shared insights on the Black experience, both on a personal level as well as in the workplace. One of those employees was Tanisha Franklin, an account executive for AppFolio. 
When asked how AppFolio embraces employees' sense of inclusion and belonging, Tanisha had this to say: "It's about carrying the learning forward, and treating people like you want to be treated. I feel seen, and my colleagues aren't afraid to ask me questions. Because of this, we can have genuine conversations and relationships built on trust, and open new doors together."