Last modified on May 22nd, 2020
By Brittany Benz
Property management businesses typically work like well-oiled machines — between showings, lease signings, maintenance, and renewals — there are many carefully coordinated tasks that must be completed every day, and each member of the team plays an important role in maintaining the business' continuity. However, in times of disruption a lack of mobile technology and standardized processes can make it difficult to ensure consistency across teams. According to a recent survey conducted by AppFolio, property managers reported a lack defined processes and workflows as one of the top three challenges of working remotely during COVID-19. Cloud-based property management technology with built-in workflows can help you to standardize processes and effectively cross-train your team.
While it may take longer in the initial phase to cross-train your employees, it can save time and money in the long run, as it can prevent bottlenecks since your workforce will be more nimble and available to fill in when others are out sick, on vacation, or quit unexpectedly. In addition, it can help you to maximize your entire team's potential, regardless of their role. Cross-training your teams comes with many advantages, especially when everyone is dispersed and working remotely. Some of the benefits include the following:
Provides More Flexibility:

Makes it easier for employees to seamlessly fill in if others are out. It also increases agility and efficiency, since managers can assign tasks to more than one person.  

Mitigates Risk:

Having team members trained for multiple roles means you have more people on staff that can respond to problems and troubleshoot them quickly. 

Streamlines Onboarding:

Makes it easier to train new hires and ensure the same standardized processes are followed every time.

Promotes Collaboration:

As employees learn about other roles within the business, they have a greater understanding of how teams work.

Increases Visibility:

Helps associates see the business on a different level, and to do their primary role even more effectively.
4 Ways to Use Technology to Keep your Teams Agile and Productive
1.) Leverage Configurable Workflows 
Cloud-based technology that has built-in, guided workflows can help you improve efficiency, handoffs, and ensure your standardized set of practices are consistently followed across teams and properties. For instance, building specific steps for handling inspections into the leasing manager's workflow effectively inserts your training handbook when it's most needed. This helps associates learn exactly what to do and gives you a way to track their progress. In addition, you can modify your current workflows based on any updates to your company policies, such as enhanced safety protocols — and have the confidence that employees in every location, and in every department, are following the same processes.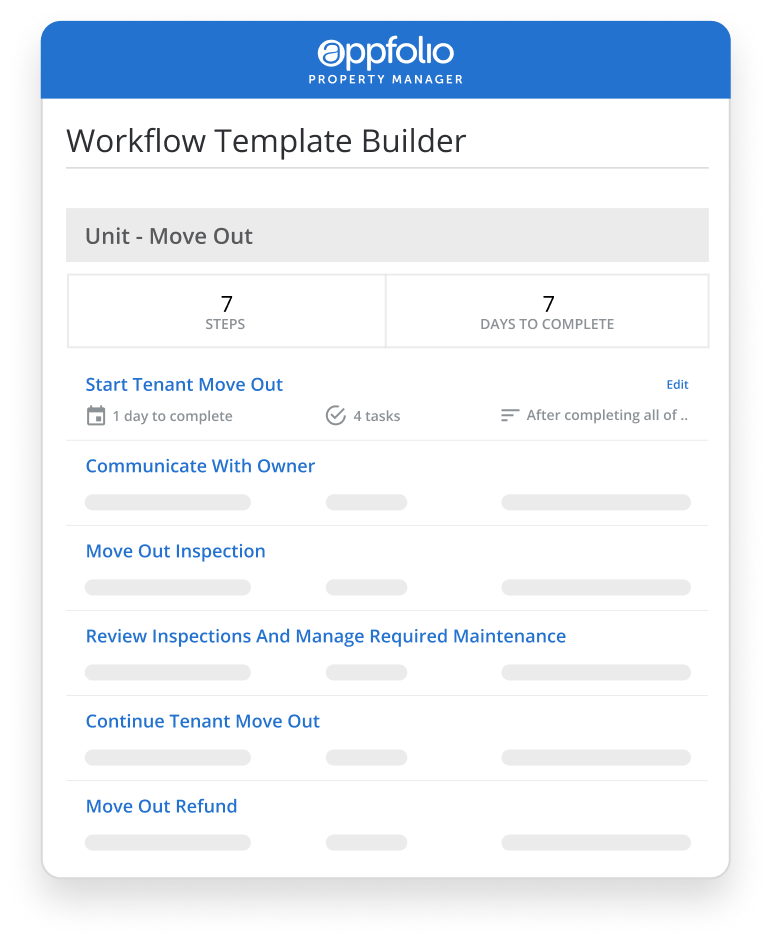 2.) Host Remote Training Sessions 
Along with built-in workflows, you can follow up with team members and reinforce their learnings with remote training sessions. Using a video conferencing system, like Zoom or GoToMeeting, you can meet as a group or one-on-one to go through processes in more detail, answer questions, and even conduct mock simulations.
3.) Manage Roles & Security
When cross-training your team it's important to reliably control who has access to sensitive business data and documents, especially when your entire business is working remotely. For example, your leasing agents might need to view different data than your maintenance technicians. Modern technology, like AppFolio Property Manager PLUS, gives leaders the ability to manage roles with a few clicks, so you can easily and securely provide access to important documents and information. Rather than having to grant permission to each individual, leaders can save time by creating templated roles, where they can assign limited access to a team or individual and then revoke it as needed.
4.) Provide a Feedback Loop
Cross-trained employees have more visibility into your business' processes, and as a result, are in the best position to provide feedback and recommend changes. Be sure to listen to your employees and to gather feedback on the overall efficiency of your business processes, so you can continually make improvements. One way you can do this is by sending out regular surveys and connecting before, during, and after their cross-training sessions. In addition, cloud-based technology with internal measurement tools can give you the ability to analyze team performance and gain valuable insights to help you improve your training processes in the future.
If there's one thing we have learned from this unprecedented time, it's the importance of having a strong and resilient team. With the technology-assisted training and built-in workflows of AppFolio Property Manager PLUS, you can quickly and easily ramp up your employees and ensure the same company standards are followed every time. Abide by these best practices and your team will be able to adapt and overcome any potential challenges that may come your way.