Last modified on August 22nd, 2017
By Christina Burch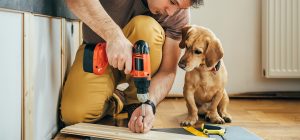 The decision to renovate never comes easy, as there's considerable risk involved. However, it's a common solution property managers turn to when looking to increase the value of existing properties.
In addition to the heavy price tag, most renovations require a fair amount of time to complete. In opportunity cost alone, pulling a unit or group of units out of the game might mean a big hit. Luckily, the investment in your property is more likely to bring in long-term profitability. You just have to know which will be worth your time and money.

Consider these types of property renovations that renters and investors are likely to pay more for.
Internal Improvements
Figuring out which renovations will contribute to higher rents may be more art than it is science. Property management companies choosing to upgrade flooring, kitchens, bathrooms, and lighting in older units cannot be sure of which improvements will yield the highest ROI. However, a good way to gauge the sentiment of potential renters is to survey current residents and find out which improvements would increase satisfaction.
External Improvements
Property owners may also want to consider making upgrades to landscaping, signage, and exterior paint. Cosmetic projects like this generally don't cost that much, and they can provide high returns by boosting curb appeal. Other worthwhile improvements include laundry facility or exercise room upgrades. Also high on a renter's list, swimming pools, shuttles to a transportation hub, or community rooms can go a long way. These additional conveniences give residents the chance to save time and money – so they are likely to pay more for them.
Technical Improvements
Today's modern renters are likely to expect good internet connectivity as much as they expect lights and running water. Communications companies can usually improve the connectivity of buildings that don't already have it. Another way to cater to today's tenants is by offering online or tech-savvy solutions for bill paying, mobile communication, and even sophisticated internet-based security and temperature-control systems. Wired buildings are more attractive to prospects, and many of these features can also help the building run more efficiently.
Which Renovations Bring the Highest ROI?
It's impossible to say which improvements will benefit your specific property or location most. However, the right mindset to have is one in which you put your renters first. Property owners might look around their community to see which features are most loved by renters of other communities. Of course, it's always a good idea to consider asking current residents for their own input. While the goal of these improvements might be to attract new tenants who are willing to pay more, most property managers would hope to retain as many of their old residents as possible.
In any case, the right renovations to an older property can often bring the owners a better and faster return than building an entirely new property can. Better yet, property managers can roll these improvements out in stages, so they won't need massive capital to start enjoying more profits. A sound investment in upgrades – and ones that are well planned – are well worth the resulting increase in rents and property value.