Last modified on April 5th, 2023
By Elizabeth Millar, Rae Parker
The property management industry is a service industry, and its success is very much dependent on offering their residents a stand-out-experience. But today's property managers are finding out that good customer service alone is no longer cutting it. Our 2022 U.S. Resident Motivations Report revealed that 70% of renters are satisfied with their property management company, however only 24% said that they're likely to recommend their property management company. The current market requires property managers to provide nothing short of a stellar customer experience. It should be no surprise that resident retention also goes hand-in-hand with the experience a property manager provides. 
As we head into the new year, it's time for some self-reflection to put your best foot forward. Are your renters happy with your management style? Could you be doing more to meet and exceed their expectations? Read on to learn ways you can enhance your residents' experience and give them something they'll remember, so you can stay competitive. 
Communication is key 
Being responsive, accountable, and connected is what matters most to residents and prospective renters alike. According to a 2019 study by John Burns Real Estate Consulting and AppFolio, 84% of property managers believed they communicated effectively with their residents, however, only 38% of residents agreed. To be responsive, property managers need to be available when residents have questions or concerns. 
One way to achieve this is to incorporate technology in an effective way to show your residents and employees that empathy is a priority in your business. Inviting residents to an online resident portal is a great way to provide a one-stop-shop to access the tools and information they need at their fingertips. Through the portal, you can contact residents via text and email and stay organized with a system of record for easy retrieval.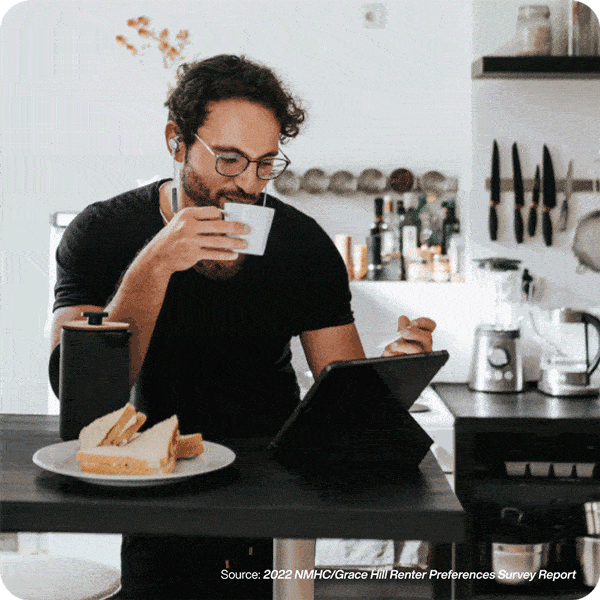 On the flipside, think of those soon-to-be residents who reach out with questions outside of office hours or on the weekends. AI-enabled leasing assistants can work as an extension of your leasing team to provide thoughtful and personable responses to all inquiries so you never miss a lead.
Make life convenient
Renters really value mobile and online tools when it comes to choosing where to live. The best property management companies go above and beyond to make their residents' lives as easy and stress-free as possible.
We know that having an online portal not only helps with communication, but allows residents to complete other tasks like paying their rent online in flexible and convenient ways; submitting maintenance requests with the click of a button; and renewing their leases from anywhere, on any device. Here are some additional self-service options and tools you should consider implementing to wow your renters: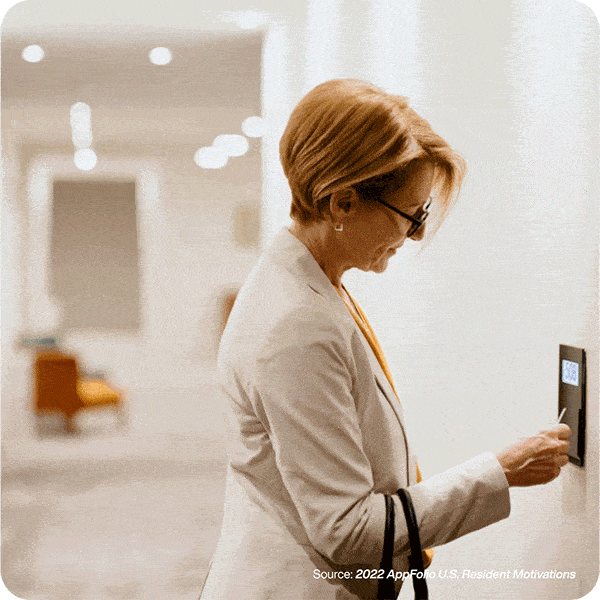 By offering convenient services you'll not only make your residents happy, but you'll also increase your employee satisfaction. In our 2022 Hiring and Retention Report, we asked property management professionals: "Which parts of engaging with residents would you most like to see automated or streamlined through the use of technology?" Almost half of the employees stated that technology can help with responding to resident questions and requests (47%). 
Going above and beyond 
It's important to remember that small things can make a big impact. Jay Baer — founder of Convince & Convert — walked us through 4 ways to care about the resident experiencer in the webinar, "Coveted customer experience: How to over-deliver on what residents care about most." He points out that by striving for just a 15% improvement, you can see a boost to your resident's experience.
If you really want to stand out from the competition, consider offering additional services like concierge service, valet trash service, or other proptech solutions that can integrate with your current property management software. Adding these extra details and types of services shows that you're willing to go the extra mile to make your residents' lives easier.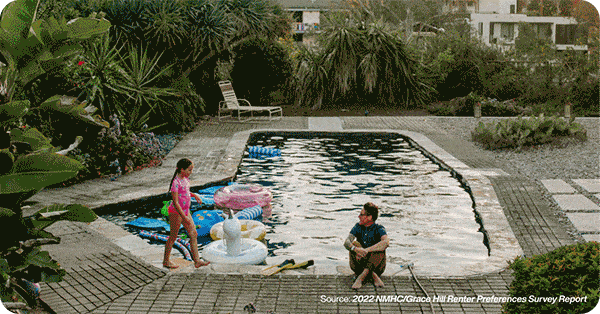 Another way to go above and beyond for your residents is by offering regular community events. Building a true sense of community can really keep residents around. This could include anything from holiday parties to BBQs to movie nights. By getting to know your residents and showing that you care about their happiness, you'll make them more likely to renew their lease year after year.
The level of customer service provided by a property management company plays a large role in your resident's decision-making process when determining where they want to continue living or start living. Consider utilizing property management software to automate the key workflows of your business to boost efficiency, all while giving the personal touch needed to manage your property. With the right technology, you can attract, qualify, and engage residents throughout the entire leasing flow. For more on providing residents with an amazing experience, check out our free guide below.