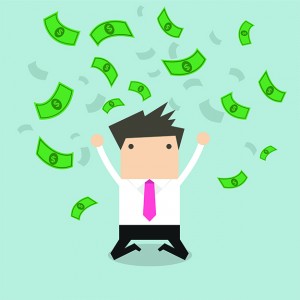 Leasing season is almost upon us, and it can be an overwhelming time for many property managers. Rifling through hundreds of applicants and marketing a flood of new vacancies is exhausting, especially if you don't have the right tools to help you through it. But leasing season doesn't have to be all bad! In fact, May to September is the best time to attract prospective renters and a great time to show off what your properties have to offer. With a solid strategy in place, you can turn a stressful time into a business advantage.
Fortunately for you, we have already done most of the legwork! We have prepared a checklist of nine areas to take a deeper look at to establish you as a leader in your market. Implementing even a few of these strategies will save you time, money, and late nights in the office.
#1. Pricing Your Unit
Proper pricing is critical to balancing your vacancy rates and your return on investment; this is how you make your money after all. If your units are priced too low, you may have an issue staying in the black. Priced too high, and you might find more than a few of your units are empty at any one time.
Many Property Managers still call in for rental comparisons within their area to find an accurate price, but there are many tools online that can do this for you (and give you more accurate data). By pairing your rental units against comparable units and their pricing in the area, these tools will tell you if you should raise or lower your rent relative to the properties in your area. AppFolio's RentMatch feature is a great example of this tool; check it out.
#2. Effective Marketing Budgets
Most PMs are not marketing professionals, but knowing where and when to advertise your vacancies can set you well ahead of your market competition and help you fill vacancies faster. In an informal survey, we learned that about 50% of property managers spend $200 or less on their marketing budgets per property per month. Many of these PMs don't even know where their money is going; it feels like they are throwing darts against a wall, hoping that something will stick. When considering how much you want to spend on marketing your properties, be intentional about where you spend your money and track whether or not those dollars are getting you renters. If they are not, it may be time for a new marketing approach.
#3. Listing Details Matter
Every property manager has at some point made the mistake of posting a vacancy before that listing is ready—you have one or two pictures that you took a few years ago, and you just don't have time to make a listing with a full list of amenities. As the world becomes more and more mobile, prospects do almost all of their home shopping online. If you don't have the most attractive listing, your vacancy simply won't make the cut.
Take the time to create video walkthroughs for all of your units. These are becoming standard practice across online listings, and it won't be long before posts without video are treated like posts without photos. On that note, take multiple photos of each room from all different angles, online listings can never have too many photos. Ensure that your listing's written description is thorough and accurate. Taking even these small steps will show a significant decrease in turnover time, maximizing your revenue.
Check out this post from Move.com on best practices for listing your units.
#4. Review Your Online Application
If you don't currently offer the ability to apply for your vacancies using an online application, you have a little bit of catching up to do—about 70% of all applications filed in the U.S. are electronic. Most renters expect the ability to apply online and prefer not to drive all the way to your property to file a piece of paper.
If you are using online applications, congrats! If you have properties in multiple locations, make sure that you are customizing each application by location. Depending on location, you may want to change the fee for your applications. In some areas of the country this fee is the responsibility of the applicant, and in others the PM needs to eat that cost as part of the rental process. The application guidelines for your prospects may vary by location as well.
#5. Update Your Screening Boxscores
When you're screening a prospective new tenant, it's important to look at them objectively not subjectively. In order to comply with Fair Housing laws, it is best to create a series of objective criteria that define a new applicant as acceptable or not. These criteria can include credit score or previous rent payment history but cannot include protected statuses like race, gender, marital or familial status, sexual orientation, or religion.
The turnaround on applicant screening is faster than ever before, and results come with much more detail than they did previously. Instead of a simple credit score, reports now come with all sorts of payment histories including car or student loan payment delinquencies. By creating a box score based on these objective criteria, you protect yourself from potentially bad renters as well as lawsuits. Record of objectivity will show that you do not discriminate in violation of Fair Housing laws.
Looking for more information on how to use Tenant Screening to get high-quality renters?
#6. Check Your Leasing and Addenda
Every year, state and federal regulations for housing change and these can have a dramatic impact on how you run your business. These can include new Fair Housing criteria, but can also have an immediate impact on your leases and addenda. For examples, the beginning of 2016 saw many new requirements for pesticide use or mold prevention, and these changes need to be reflected in your leases. Failure to comply with these new changes can result in a possible lawsuit, so it is important to stay up to date on your state's current requirements. There are many resources available online, check with your state's online resources for more info.
#7. Upgrade Your Technology
Gone are the days of paper applications, faxing, and running from property to property to fix something in person. Mobile devices have all of the tools that we need to work from anywhere, and this saves you money! If your maintenance staff have mobile devices to track and handle requests, this saves you the gas they would have spent driving to and from the office to pick up paper requests. Some PM softwares have the ability to track the status of maintenance requests, granting greater visibility to you and your renters.
Mobile devices also give your leasing agents the ability to run their entire operation while hosting walkthroughs and engaging with prospects 1-on-1. Imagine being able to show a prospect properties, screen their application, and process their lease while standing right next to them. This is becoming a more popular trend as people do all of their initial research online, and taking a mobile approach to your business will save you time in the office and on the road, and will shorten those turnover times significantly.
#8. Refresh Leasing Staff Training
As your renters do more and more on their mobile devices, your leasing agents need to adapt to accommodate their needs. Consider a new training program for your staff that includes the latest trend in the leasing world: Customer Urgency. This refers to the modern renter, who does not want an entire day to be bogged down in the application and leasing process. They prefer to apply online, check out the listing once in person, and sign the lease on the spot. Equipping your team with handling this type of urgency works to everyone's benefit—your renters can move in faster, your vacancy is filled, and your leasing agent closes a deal as quickly as possible.
#9. Customize Your Investor Reports
What kinds of reports are you sending to your owners and investors? Standard Box Score reports give your business investors the information they need, but the pages can be difficult to read and even harder to interpret. Consider breaking down your stats to a more digestible format using more engaging forms of communication like graphs and charts. Adding a visual aspect to your reporting will keep your investors and owners more informed, which will drive a continued positive relationship and a more transparent business model.
Preparation boils down to two things: having the right tools and a plan to use them. Take action on your business' potential shortcomings and turn them into distinct advantages in your market.
---
In case you missed our recent webinar on how to prep for leasing season, presented by AppFolio VP of Product Nat Kunes, check out the slides and the recording below.
Slides
Recording