Last modified on May 11th, 2018
By Elizabeth Millar
While those of us here at AppFolio know that it's a fabulous place to work, it's great to see our company recognized out in the wild. That's why I'm excited to share that AppFolio was named as one of the Highest Rated Public Cloud Computing Companies To Work For in a list released by Battery Ventures and Glassdoor. The list is comprised of 25 business-to-business cloud companies worldwide where employees report the highest levels of work satisfaction from the feedback they've shared on Glassdoor.
Why AppFolio Stands Out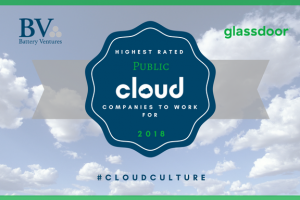 According to Jason Randall, AppFolio President & CEO, the secret is in understanding that a strong company culture starts with the employees. Through encouraging collaboration, providing a healthy work-life balance, and fueling innovation, AppFolio can deliver the best technology and service to our customers.
With awesome perks like fully-stocked kitchens, exercise classes, top-of-the-line computer equipment, team-building activities, and a fun work environment, what's not to love? Did I mention it's also dog-friendly? When you love where you work, it's that much easier to work hard, support your colleagues, and reach common goals.
Ready to Love Your Job?
We love where we work, and you can too. We're always looking for team members who thrive in a fast-paced, innovative, and energetic environment. Check out our current job opportunities to see if there's a good fit for you!
You Might Also Enjoy: