Last modified on August 10th, 2021
By Elizabeth Millar
At AppFolio, we love our hack days. For those of you who aren't familiar, a hack day, hackathon, or codefest is a convergence of innovation, collaboration, and learning that empowers AppFolians to explore their passions and curiosities. For this round, we brought our Product Development and Business Systems teams together with our large group of summer interns to code for 24 hours under the theme: Game On. Both our San Diego and Santa Barbara offices participated, and for a brief period were brought together, virtually, with a Counter-Strike tournament to blow off some steam as they approached midnight.
San Diego's Hack Day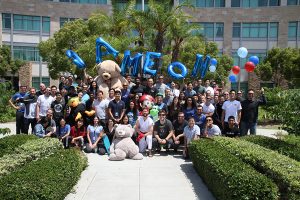 The AppFolio San Diego office started off their day with yoga and breakfast to go into their marathon of coding without any tension before the opening ceremony. As the programmers feverishly coded through the afternoon, they were invited to enjoy the opportunity to make appointments with massage therapists to keep it a stress-free and fun event. The evening involved dinner and entertainment, and did I mention the late-night glow-in-the-dark hip-hop dance class? Never a dull moment in the AppFolio office!
How Santa Barbara Hacks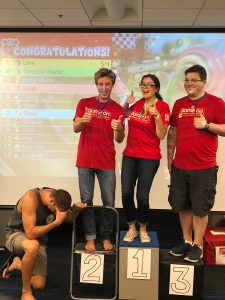 The Santa Barbara office hack day began with a similar opening ceremony, followed by the long-awaited annual group picture, supplemented by a constant stream of food to keep them sustained for their coding adventure. In the afternoon and evening, they were invited to take a break for a trivia match and a Mario Kart tournament.
What's In the Box?
A long-standing tradition of AppFolio Hack Days is the "midnight box." For those who stay for the long haul through the night are presented with the coveted midnight box with a special surprise to keep them motivated through the night. Previous midnight boxes have included an office hammock, rock band, table tennis machine, and a scavenger hunt to name a few.
This year's box in Santa Barbara contained Mario Kart Pez, a tabletop curling game, and a Lego video game to boost productivity through the rest of the night. San Diego enjoyed an old-school popcorn machine for the game room!
And the Winners Are…
After a long 24 hours of coding, the teams enjoyed breakfast and lunch in the office before the hacking commenced at noon the following day. The rest of the day is spent watching team presentations and voting for their favorites, finally closing out the day with an award ceremony. This year's winners fell into five categories:
San Diego:
Best Technical Achievement:

"Zero Downtime Migrations for MyCase" by Eric Johnson and Chad Shaffer

Most Creative:

"Food" by Kevin Tsung, Fannie Yu, Darren Eng, and Stanley Phu

Most Useful:

"Find a Time" by Quy Phan, Trung Do, Drew Nguyen, and Leiasa Horanic

ABS (AppFolio Business Systems):

"APM Cross Vertical Learning" by Nick Zulcic and Tressa Schultze

MyCase 3+:

"Firm Health – Data Visualization Dashboard" by Morris Neer, Wendy Vasquez, James Tiongson, Kiki Jiang, Sam Britney, and Costas Zarifis

Best in Show:

"Food" by Kevin Tsung, Fannie Yu, Darren Eng, and Stanley Phu
Santa Barbara:
Best Technical Achievement:

"Kill the Prince" Daniel Vicory, Yimin Yuan, Brynjar Gretarsson, Michael Zhang

Most Creative:

"Pull O Matic" Aaron Veronese, Jiaheng Tang, Miles Luders, Vivek Pradhan, Keith Long

Most Useful to AppFolio:

"(Bar)Code Names" Chris Horuk, Josh Bates, Bao Chau, Jingyu Zhang, Dan Means, Natalie Schauser, Charlotte Bradley

Most Useful to the Office:

"Slack – Wechat" Polo Li, Zhaoyu Sun

Best in Show:

"Let's Play Games" Haomin Zhang
Thank you to everyone who took the time to participate and coordinate this unique and spirited event that not only contributes to company culture but advances AppFolio's technology as well.
Join the AppFolio Team
Ready to join our next Hack Day? We're always on the lookout for new team members who thrive in a fast-paced, innovative and energetic environment. Our benefits and lifestyle perks take care of you and your family so you can focus on what matters, both at home and at work. Learn more about working at AppFolio and check out our current job openings!
You Might Also Enjoy: