Last modified on April 6th, 2020
By Brittany Benz
COVID-19 continues to affect all facets of life for property managers, owners, and residents. To better understand how COVID-19 is impacting the real estate industry, AppFolio recently surveyed 3,533 property management professionals nationwide. From resident communications to maintenance operations, many are taking proactive measures to ensure the safety of their residents and staff.  Here is a preview of the findings:
Based on the survey data, we can see just how quickly property managers are responding to the situation. One of the things we found most promising was that almost 90% of property management companies either already had implemented a policy related to COVID-19 or were working on it.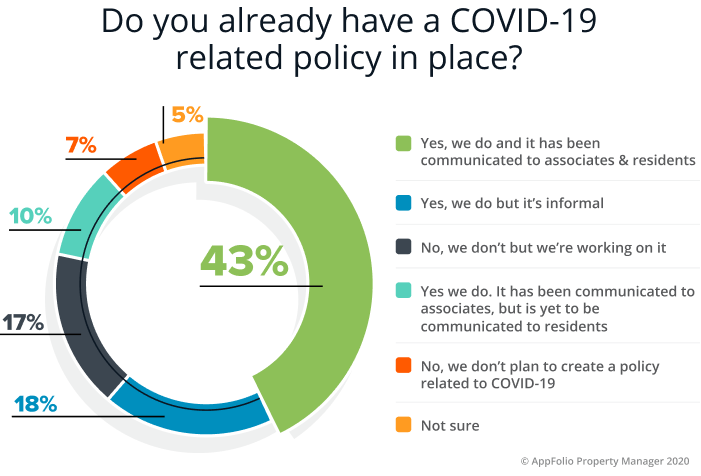 We also took a look at the actions property managers have taken to keep their residents and associates safe. The most frequent mentions included policies to ensure social distancing (64%), frequent disinfecting of contact surfaces (58%), and an increased cleaning frequency (50%). According to the findings, it also seems large property management companies are responding quicker than small companies. 69% of property management companies managing 500+ units have already enacted social distancing, versus only 54% of those managing less than 500 units.
Meanwhile, maintenance and inspections were two of the areas that had been most impacted by social distancing, with 49% saying they had halted inspections and 41% saying they were only servicing emergency maintenance requests.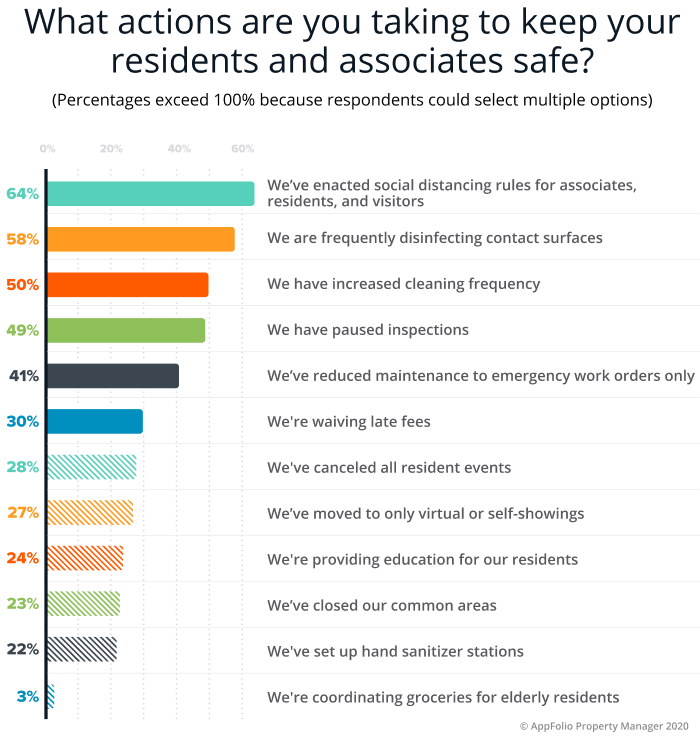 In addition, the leasing process has also been impacted: 77% of property managers are changing the way they handle showings, 13% have halted them altogether, and 27% have moved to only virtual or self-showings — something that innovative technology has enabled them to do.
In times like these, mobile technology can help you maintain your operations and business continuity. As we all continue to settle into this new reality, we're committed to providing you with solutions, tips, and advice that help you keep your residents and associates safe, while staying productive. The full survey results are now live! Be sure to take a look.  Also, we are keeping the survey open with the goal of providing a week-over-week view into the data. If you haven't taken it yet, please voice your thoughts and take the survey.
This post was updated on April 6, 2020.