Last modified on September 6th, 2018
By Elizabeth Millar
People come into the AppFolio family through many paths: online job postings, recruiting, referrals, and even internships. AppFolio interns are not your typical coffee-fetchers, copy-makers, and spreadsheet-organizers. It's real-world work experience that provides those new to the workforce an opportunity to get a feel for working in the software industry and hopefully discover a place to grow and nurture a career.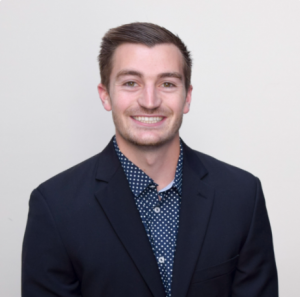 To get a first-hand experience of what this looks like, I sat down with Cameron Neill in Santa Barbara who started at AppFolio as a Database Quality Intern in June 2017 and who is now a Business Development Representative (BDR) Ninja with no signs of slowing down his career growth.
Q: How did your AppFolio story begin?
A: I was interning at another company in Santa Barbara for the majority of my senior year at UCSB, and I had intended to work there full-time. A month before graduation, Amazon acquired them, and that was the end of my time at the company. Luckily, I had a friend interning at AppFolio as a Database Quality Intern (DQ). I didn't know much about the role or the company at the time, but I always wanted a job in the SaaS industry. After a few interviews in June 2017 and touring the office, I knew this would be the right place to start my career.
Q: As a Database Quality Intern, how did you get interested in becoming a Business Development Representative (BDR)?
A: The BDR and DQ roles are very closely connected. DQs find new companies for the BDRs, then the BDRs generate interest in AppFolio from those companies and then work closely with the sales team to assist in moving deals forward. As a DQ I attended all of the BDR team meetings, and although I didn't understand much of the terminology, it was definitely something I wanted to learn more about. I was able to sit next to the BDRs, study their workflows, and get a bird's-eye view of what it takes to succeed in the position. When my internship was nearing its end, the choice to transition to a BDR was simple because of my familiarity with the role. The transition took place only a few months later, and in August 2017 I was an official BDR for AppFolio. After honing my skills and the right amount of experience, I was promoted to the "Ninja" level of BDR about eight months later.
Q: What keeps you motivated at work each day?
A: It's very motivating to see my peers advancing their careers at AppFolio. This company does a great job of rewarding hard work and offering new opportunities for further development. Every day I come into work, I know I'm making a step in the right direction towards my personal and professional development. Knowing that at the end of the day I can head down to the beach is an added bonus.
Q: What is your favorite part of your role at AppFolio?
A: My favorite part of my role also happens to be the most challenging: working with a prospective customer to change the way they think about their business. It's a difficult task, but it's incredibly rewarding when they see the benefits of AppFolio. It's all about being comfortable with delayed gratification. The results of your work might not be instantaneous, but patience and persistence go a long way in this role. Having the freedom to introduce new concepts to the team through "tribal knowledge" is also very rewarding because you can make a direct impact on the direction of the program.
Q: What are your aspirations for your career and life in the distant (and not-so-distant) future?
A: I would love to have the financial freedom to explore new parts of the world. Unless I become General Manager of the Lakers, I plan on continuing my work in the tech industry. In the not-so-distant future, I'll continue to find leadership opportunities in my current role, help new team members get adjusted, and work towards advancing my sales career.
Q: When you're not at work, what do you enjoy doing with your time?
A: Pretty much anything that lets me get outside and be active is good enough. I grew up playing soccer, but lately, I have been playing more basketball, volleyball, and even bocce ball. If I'm not taking a short weekend trip, you can probably find me downtown in the Funk Zone or battling off a sunburn at East Beach.
AppFolio is Hiring
We're always looking for team members who thrive in a fast-paced, innovative and energetic environment. Our benefits and lifestyle perks take care of you and your family so you can focus on what matters, both at home and at work. Learn more about working at AppFolio and check out our current job openings!
You Might Also Enjoy: