Last modified on August 10th, 2021
By Elizabeth Millar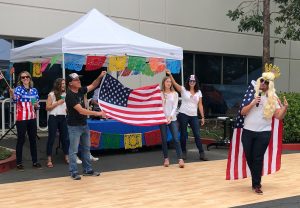 Hard to believe the 7th Annual AppFolio Avocado Takedown is already in the books. If you're not familiar with this fun, festive, and popular event, take a moment to get caught up! Long story short, it's a company-wide event where we take some time to celebrate our love of avocados and having fun together. What started as guacamole contest has morphed into performance art, food, fun, and – yes – also some guacamole. Teams from our offices in Santa Barbara, San Diego, and Dallas all take part – it's team-building done right.
With team names like Lady Gua Gua, Guac and Roll, Guaczilla, and Hakuna Avocada to name a few, there was no shortage of puns.
And the Winners Are…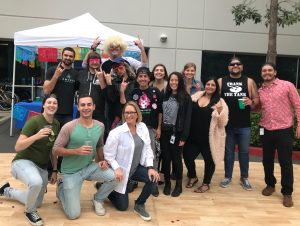 Best Tasting Guacamole:
We Love Guac n' Roll!
This group of Joan Jett-inspired rockers guac-ed the stage with their high-energy performance, but what really brought down the house was their delicious guacamole. This best-tasting guac changed the game by adding ceviche: "guaceviche" was the end result as the team named it.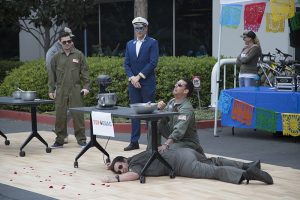 Best Performance:
Top Guac
This performance had everything: drama, comedy, tragedy, and a delightful musical number. Fans of Top Gun and Top Chef were not disappointed. Brava!
Most Unique Ingredient:
Hakuna Avocada (Crickets)
Have you ever heard an avocado-lover say they'd eat anything dipped in guacamole? They got to put that to the test with the chirpy secret ingredient from our Lion King-inspired group. Crickets added some interesting texture and protein to the traditional dip – perhaps give it a try at your next barbecue!
This beloved AppFolio tradition is one of the many wonderful (and quirky) things that make this company so great to work for. Want to be part of this next year? Check out our job opportunities to see if there's a good fit for you!