Last modified on January 2nd, 2020
By Brittany Benz
2020 is here. Are you prepared for the changes that are coming to the real estate industry? From growing markets to new technological advancements, these are just a few of the things that will shape the year ahead. Read on to get the data you need to fine-tune your business strategy, gain a competitive edge, and attract more customers in 2020 and beyond.   
Market Trends: Then & Now
All in all, 2019 was a great year for real estate. According to Stacy Holden, Industry Principal Director, AppFolio Inc., "When it comes to capital in 2019, a lot was spent in the real estate sector. Over 1.9 million units entered into the market, which is a significant increase from last year."
The majority of this increase is happening in the multi-family residential space (32%). 
Meanwhile, office, hotel, and retail slowed in 2019, and are expected to remain flat in the year ahead.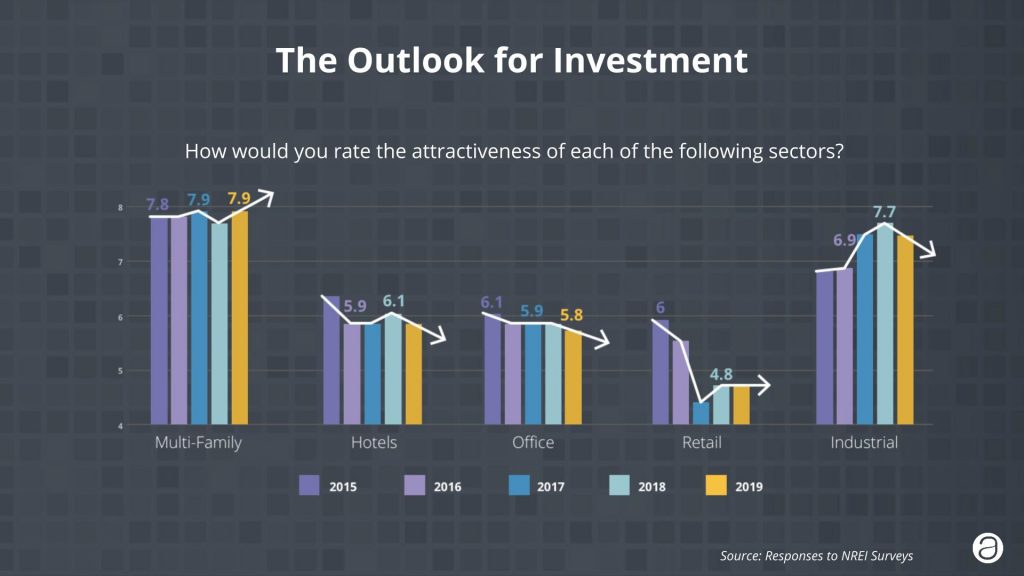 "Multifamily is a safe bet in the real estate investment ecosystem because, historically, it's always been an in-demand asset class."

— Nat Kunes, SVP of Investment Management, AppFolio Inc

Source: GlobeSt.com
With multi-family residential on the rise, what does it mean for investors in 2020? Based on responses from the NREI / Marcus & Millichap Investor Sentiment Survey, investors are planning to hold in the multi-family sector, which parallels sustained renter demand. Adding to the supply and demand issue, occupancy rates are still at a record high across most of the country. In fact, the average apartment occupancy rate rose to 96.2% in July 2019, according to an article by NREI. 
Luckily, supply is growing. Many duplex and quadplex properties are being torn down and replaced with larger, multi-family residential buildings to keep up with the demand. Based on the increasing number of building permits granted and housing starts, construction is expected to soar in 2020. In addition, 61% of all construction will be in the community association sector — another market property managers should keep an eye on.
Usually when there's an uptick in occupancy, there's also an increase in rent growth. Yet in 2019 there was only a 3% increase in rent growth. This number is expected to stay relatively flat due to the ongoing affordability crisis and regulations regarding rent control. Rent control compliance has and will continue to have a huge impact on the market. Yet despite all of the challenges, the data is still pointing in the direction of continued growth for the year ahead.
The Tools of the Future: Data & AI
Advances in technology, like artificial intelligence, will have a big impact on the way you run your business in 2020. While it's easy to doubt the latest innovations; those who do not adapt will be at risk of falling behind the competition. Based on findings from the 2019 Real Estate Industry Report for Residential Property Managers conducted by John Burns Consulting and AppFolio, 77.7% of property managers are open to adopting new technology, which is an encouraging sign. 
In the last few years, there has been a fundamental paradigm shift in the way people program and manage technology. Machine learning has made it possible for computers to interact with humans and make decisions like never before. AI technologies, like Alexa and Siri have already transformed the way people perform everyday tasks. 
"Similar to the how the human brain works, machine learning collects a tremendous amount of data, and then determines the best way to relate the inputs and outputs."

— Adam Feinstein, Director of Product Management, AppFolio Inc.
With an abundance of data and repetitive, manual processes, the real estate industry is well suited for AI. One way to incorporate more AI technology into your business is to use a digital leasing assistant. Like an additional member of your team, an AI leasing assistant responds to prospective residents 24/7 and collects real-time data that you can use to make more strategic decisions. Automating repetitive tasks — like scheduling showings and responding to inquiries — frees up your team for more interactions with customers and increases efficiencies, which translates to a better resident and employee experience.
In addition to an AI leasing assistant, another way you could incorporate more technology into your business is to adopt smart bill entry. With smart bill entry you simply upload your invoices and the computer fills in the data. This system not only makes billing easier, but also saves time.
"Since September 2019, AppFolio has helped deliver 1 million invoices. Imagine the time saved!"

—Adam Feinstein, Director of Product Management, AppFolio Inc.
What Residents Are Looking for in 2020
Consumer expectations are rising when it comes to customer service. In fact, based on results from the 2019 Microsoft State of Global Service Report, 59% of respondents say they have higher expectations than last year. If you want your business to deliver on these growing expectations, you're going to have to stay up-to-date on the latest trends. Here are three things residents will be looking for in 2020: 
Positive Reviews
It may come as a surprise, but half of the consumer's journey is already complete before they even reach out to a representative from your business. According to the 2020 NMHC / Kingsley Apartment Resident Preferences Report, 72% of renters visited an apartment listing site when searching for their apartment. However, people aren't just researching online, they're actually using the content to make decisions.
For instance, out of those renters, 79% said the content of ratings and reviews actually stopped them from visiting one or more communities, and 85% said the content influenced their final leasing decision. These findings present a big opportunity for you to optimize the customer journey at these key touch points. By taking a proactive approach to managing your online presence, you can attract and retain more residents. 
On-Demand Services
In addition to stellar online reviews, renters will also be looking for on-demand services. Today, consumers expect to be able to access services from their mobile devices 24/7 — and their apartment is no exception. Based on findings in the 2020 NMHC / Kingsley Report, 81% of renters value having mobile access to their resident portal, which has increased significantly since 2017 when it was just 77%. 
This trend towards wanting mobile access is only going to grow. Along with having access to their resident portal, renters also prefer to perform tasks — like submitting maintenance requests (64%) and paying rent (58%) — on a mobile phone rather than a desktop computer.
Outstanding Experiences
Beyond positive reviews and on-demand services, residents want outstanding experiences at every touchpoint of their journey. However, this is often easier said than done. Research shows there's a gap between expectation and reality. According to the 2019 Real Estate Industry Report by John Burns Consulting and AppFolio, 84% of property managers say they communicate effectively, but only 38% of residents agree.
So how can you elevate your customer experience? First, you can gather feedback early and often. One way you can do this is by sending out surveys and responding to all of your online reviews (both positive and negative). Next, you can empower your team by implementing modern technology to optimize workflows. Finally, you can provide your customers with more on-demand services, like self-guided showings and online bill pay, to increase business efficiency and resident satisfaction. 
With the right tools and insights you can enhance your business strategy, and attract and retain more customers. Set yourself up for success in 2020 by taking advantage of the latest real estate market trends and advancements in technology.