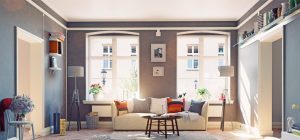 Knowing which websites to list your properties on can be tricky. New, innovative sites are emerging everyday, while old, worn-out sites are on the decline. Luckily, we've compiled a list to help you know the best and most successful sites to list your vacant rental properties in 2017.
If you really want your property to hit all demographics, ApartmentGuide.com is the way to go. In addition to a fully-functioning browser search, the company has also created searching apps for iPads, iPhones, and Android devices. Even better, they're a part of RentPath.com, meaning an advertisement on this site will also show up on Rent.com, Rentals.com, and more. You'll be able to list HD photos, videos, and tours of your building to really give prospective tenants a better look.
2. Rent.com
As another division of RentPath.com, Rent.com's main feature is to collect and display real-time reviews from actual tenants. This way, your excellent customer service and spectacular upgrades will really shine through to prospective renters. Additionally, the site also offers HD photos, detailed floor plans, and virtual property tours for a truly immersive and informative experience. It also includes mobile apps for the iPhone and Android devices, meaning that renters can access their saved search results even on-the-go.
3. Zillow
Zillow is primarily known as a real estate listing website, but that doesn't mean it doesn't offer powerful capabilities for rental listings as well. In fact, Zillow is a part of what's known as the Zillow Group Audience, meaning your property will also be featured on Trulia, StreetEasy, and Hotpads. This increased audience means your rentals have the ability to reach over 32 million rental visitors each month. To further entice customers, Zillow offers Zestimates to inform tenants if the rent you're charging is fair market value, as well as rent affordability calculators.
4. Hotpads
Speaking of Hotpads, it is another one of the top property listing sites of 2017. Its map-centric search allows customers to browse their local areas instead of simply combing through a list of boring results. Perhaps best of all, Hotpads lets you categorize your rental by a number of different features, including pet friendly, room for rent, student housing, income restricted, senior housing, and more. Searchers can also filter results by price, apartment type, and number of beds/baths. This will help you pair up with tenants who are more interested in what you have to offer.
5. PadMapper
For many people, location is everything, and that is what PadMapper capitalizes on. There are no cumbersome list searches; instead, there's only a map which displays results as the user moves it around. This simplistic, no frills design takes away from the clutter and puts your property in the sole spotlight. It's also highly convenient to use, as all you have to do to create a post is download the app. If you own multiple properties, you can become a Zumper Pro member, which also offers the ability to screen applicants and acquire credit reports.
Honorable Mentions
Of course, it's extremely hard to narrow down all the property listing sites on the web to just five top choices, so we also have some honorable mentions. Craigslist is still a viable option, as it gets up to 50 billion page views a month. Facebook is always adding new features, one of which is the ability to post your rental in the Groups Marketplace. Nextdoor is also a promising new social media site for neighborhoods and could highlight your property.
Hit All of These Sites – and More – With Our Property Management Software
Like I mentioned before, there are hundreds of potential listing sites and new ones popping up all the time. Want to avoid the hassle of posting to all of these sites manually one at a time? Try using AppFolio to manage your listings. Your properties can be posted to different sites on the web, ensuring your property will be on all of the top apartment search engines. Check out our listing partners.