Last modified on April 24th, 2018
By Aimee Miller
According to the CTIA, in 2013, 19.1 trillion texts were sent in the United States. Texting is the number one application used on phones, and one of the most common ways of communicating. Why then, wouldn't it extend to every part of our daily lives, including communication between property managers and renters?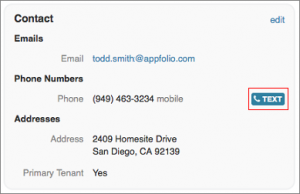 We are excited to share AppFolio's new built-in texting feature. This feature is free to AppFolio customers and allows property managers to quickly and easily send important and personalized texts to their residents right from their resident contact record in AppFolio.
The texting feature enables property owners to send a variety of 160 character personalized messages, including late rent reminders, maintenance updates, community announcements or package delivery notifications. Did we mention it's free to AppFolio customers?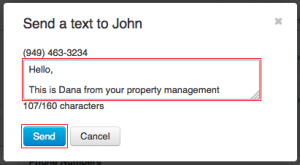 Timely communication through texting not only makes the renting and managing process more efficient, but also helps to build trust between property managers and their renters, ensuring satisfaction on both ends.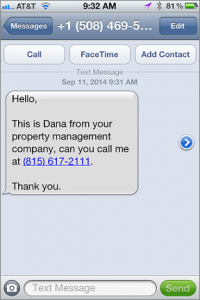 Make better connections with your renters and start texting now!  For additional information on AppFolio's new texting integration, click here.