Last modified on May 5th, 2017
By Elizabeth Millar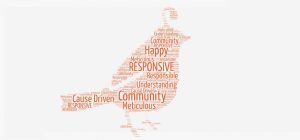 As a property manager, it might seem daunting to plan and execute a successful brand strategy. However, it's a key factor in growing your business, keeping your renters happy, and sending out additional advocates into the world.
Luckily, it's easy to get you up and running with a brand you're proud of.
In a recent webinar featuring Lisa Wise (Chief "Nester" at Nest D.C., a boutique property management company in Washington, D.C.), Lisa shared some of her secrets to building a better brand for the long haul:
Be community-committed. It's time to revamp the traditional "landlord" perception of being outdated, hard-to-reach, or unethical. Instead, be responsive and meticulous. Take an active role in networking on social media and positioning yourself as a community thought leader. Lisa recommends sending out a newsletter highlighting new restaurants, upcoming concerts or pet-friendly parks. Also, be transparent with the things you care about as a company; participate in local fundraisers or volunteer as a team. Staying cause-driven is just as valuable for your community as it is for your company.
Professional photography. It's worth it. Reputation and credibility are essential to refining your company's image. So invest in high-quality photography that best presents your team and your properties. Your brand will further shine when your website is splashed with interesting, colorful, and cohesive images. Lisa recommends investing in a photographer with real estate knowledge so no detail is spared. Professional lighting and staging go a long way when capturing your spaces favorably, and it's a simple way to reinforce that you take pride in your properties and the brand you've built.
Empathy is everything. It's one of the most valuable assets a property manager can possess. Lisa highlights this quality as an essential tool in staying grounded and keeping the customer first. Communication and compliance (or lack of) can be a frustrating position to be in. But understanding the unique situations of each of your tenants will grant you the patience and mindset to move forward in the best possible manner. Remember, you and your renters are equal players in shaping a happy and healthy community. The investment will score you and your brand long-term success.
Equipped with these tips, you'll be on your way to establishing a momentum-building brand that thrives alongside your growing company.
For more on Lisa's presentation, check out the recording below:
More on Nest D.C.: