Last modified on March 2nd, 2017
By Rachel Jefferson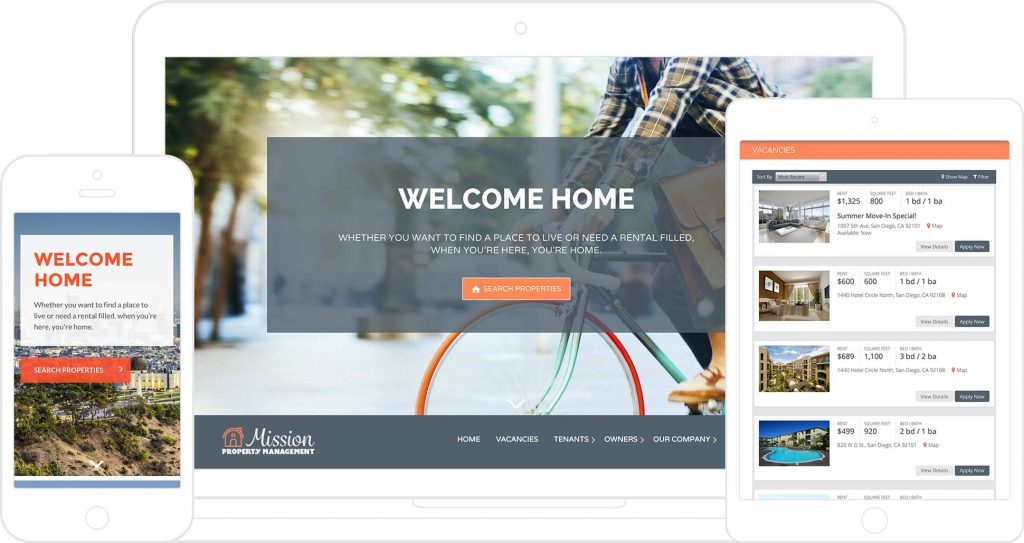 Google has urged people to make their sites mobile-friendly for a very long time. Why? One promising theory is that Big G is doing this to help webmasters, developers, and engineering teams stay up to date on trends with user behavior shifting strongly to mobile devices in the last few years.
We asked SEO Expert David Portney (3Q Digital) and VP of Product Development Nat Kunes (AppFolio) to weigh in on Google's latest Mobile-First Index announcement and how it might affect Property Managers and their property management websites.
How Google's Mobile-First Index Affects Your Property Management Website's Search Engine Optimization (SEO) Strategy
David Portney, can you summarize the latest announcement from Google?
Certainly. The latest big announcement from Google on the mobile front happened on November 4, 2016, and it's basically a "mobile-first index." At this time details are scarce, and Google has said they'll provide more details later, but the gist is that Google is changing their index of web pages from "desktop" pages to "mobile" pages.
This isn't the first time Google has made a big announcement hinting at a mobile-first strategy.
No, it's not. One clear example of Google pushing people in the mobile-friendly direction is the infamous "mobilegeddon" event of 2015. Google announced its algorithm update on April 21, 2015 and intended to give higher rankings to websites that display well on mobile devices. The moniker was appropriate—the update caused a few major websites to drop off the rankings and it took many months for some businesses to fix their websites and recover from the traffic hit. It really was a mobile armageddon.
When do you expect that Google will roll out this new update and when will we see the effects?
There are many unknowns at this time, and we expect Google to provide clarity soon, but the inside word is that Google will likely not be able to roll this out by the end of Q1 2017.
Should property managers be concerned about how the mobile-first index will affect their SEO efforts and current rankings in Google Search results?
That depends on your site configuration, and also depends on what details Google releases in the future to provide clarity about the "mobile-first index." But there are two things we know for sure right now:
Google has long recommended responsive web design for mobile websites:
The second thing we know is that Google's official announcement of the coming mobile-first index states that if you have a responsive site or a dynamic serving site where the primary content and markup is equivalent across mobile and desktop, you shouldn't have to change anything.
Can you talk about the SEO benefits of having a "responsive" website?
From an SEO perspective, one of the huge benefits of using responsive design is that the URLs of the desktop page versions are the same as the URLs of the mobile page versions. This is one of the main reasons that Google recommends responsive design. It's easier for Google to understand the site and pages, reduces complications and potential issues with other types of mobile website configurations, and consolidates all signals like PageRank (sometimes called "Link Authority") to a single URL for each page on the site.
Thanks David, is there anything else you'd like to add?
It remains to be seen what details Google will provide with respect to the upcoming shift to a mobile-first index. I'd advise people to remain calm. And if you're already using responsive design, you're probably not going to be affected by this change, according to what Google has said so far.
If your mobile site presents significantly less content than your desktop site, you might want to rethink your stripped-down mobile website. – David Portney
If right now you only have a desktop site and do not have a mobile version (yes, your desktop site will display on a mobile device, but likely present a poor user experience) you should strongly consider going mobile. But don't do a rush-job.
Consider your options carefully, think about your users, then move forward having made an informed decision. Remember, Google has been recommending responsive design for a long time and that's not likely to change with the rollout of the mobile-first index.
How Will Google's Mobile-First Index Affect the Property Management Industry?
Nat Kunes, what challenges do you see this shift in mobile strategy creating for Property Managers this year?
I see a few effects of this announcement on the property management industry. Property managers will lose ground if they don't adopt mobile-first strategies in their business, because the competition that currently uses features like mobile applications, mobile leasing, and text messaging is already ahead. And they'll need to truly embrace mobile in all areas of their business, from how they are branded on their website to how they communicate with customers.
What can Property Managers do to overcome these challenges?
I'll reiterate what David said earlier: Get a responsive property management website. If this is the direction Google is moving, your site needs to adapt or your business won't survive. Renters and owners are already searching for property management companies on their mobile devices today. It's not new, but it's picking up steam.
I'd also suggest that you invest in technology to help drive mobile initiatives in your business. For example, iPad leasing and maintenance, mobile listings, mobile online applications. These tools can really bring efficiency back into your work day and the faster you move people in, the more money you save and customers you make happy.
You should offer ways for tenants to pay their rent via their mobile device. This is a game changer. The new generation of young renters does not want to write you a check, especially when most of their other payments are online, like utilities and their phone bill. –  Nat Kunes, AppFolio
Lastly, embrace texting as a communication method with your renters and owners. Everyone is already using their phones to communicate with each other; why not property managers? It's becoming much more common to send and receive notices via text—it's a really convenient tool to stay connected with your customers.
Thanks Nat, anything else you'd like to add?
Mobile is coming quickly and there is no turning back; if you don't want to get left behind you need to embrace a mobile-first strategy today.
---
AppFolio offers Professional Websites that are mobile-friendly and responsive. Check them out here.