Last modified on April 23rd, 2018
By Aimee Miller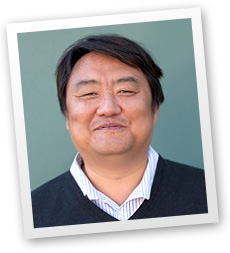 Jerry runs the group that designs and builds the AppFolio database infrastructure. His team figures out how to migrate data into AppFolio Property Manager from many different types of property management software, and make it easy too!
Tell us a little about yourself and your family.
I moved to the U.S. from China in 1984 after being awarded a United Nation Education and Academic Exchange Scholarship. I studied computer science at the University of Minnesota where I also met my wife Charlene. We moved to Santa Barbara, where I attended UCSB and earned my Ph.D. Together we have two daughters, Sophia and Kally. On the weekends we enjoy swimming and hiking, especially a great 6-7 mile trek up to Inspiration Point.
How does one get awarded a U.N. Scholarship?
The United Nations and United States have a foreign exchange program awarding scholarships to the top academic students in the International Community. I was one of only two people at my University to receive the award.
What are some things you can do in the U.S. that you could never do in China?
There are many things you can't do in China that you can do here. One thing that stands out is, you can own your own property and have no limit to the amount of property you own. In China, there are laws that prohibit you from owning property.
What do you miss most about China?
My family – my parents, cousins, uncles and aunts are all still in China. Of course, the food, there is nothing comparable to the food from China. I sometimes go to China Town in Los Angles for a quick fix.
Did you always know you wanted to be a data architect?
I always knew I would do something in the computer science arena, for me it was a gradual process finding my niche. Being a data architect is like being a detective. You can find your way to an answer, one clue at a time.
What is the best part of your job at AppFolio?
I like that AppFolio's engineering department work in small teams, you're able to recognize the goals you've accomplished through the amount of effort you and your team put into each project.