Last modified on October 4th, 2013
By Aimee Miller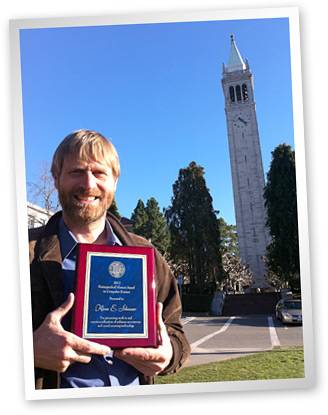 On February 23rd, 2012 Klaus Schauser (our Chief Strategist and Founder) was one of the recipients of the UC Berkeley Computer Science Division's 2012 Distinguished Alumni Award.
This award was created in 2004 and recognizes an alumnus of the Berkeley Computer Science Department who has distinguished himself as a leader through professional and technical accomplishments. This honor includes past recipients of the award Eric Schmidt (Executive Chairman, Google); Steven Wozniak (one of the founders of Apple) and Mendel Rosenblum (Associate Professor of Computer Science at Stanford and co-founder of VMware).
Klaus founded Expertcity (now Citrix Online GoToMeeting, GoToMyPC) in 1999 and his enthusiasm and creativity have really been a gift to the community of Santa Barbara. We are all so proud of Klaus and feel lucky to have the opportunity to work with him on a daily basis.
Congratulations from the entire team at AppFolio!