Last modified on June 30th, 2017
By Christina Burch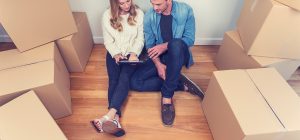 The latest release of the National Apartment List Rent Report has hit the digital shelves.
The report surveyed luxury apartments, median rentals, and all types of rental properties from cities across the nation. Property managers and owners can learn from the June roundup and the Census Bureau's latest statistics. Find out what this all means to your business from June's key takeaways:
Rent Is Up Month-over-Month
Last year's trend of flattened-out or declining rent has officially been reversed. Rental properties nationwide saw a month-over-month increase of 0.5 percent, and a year-over-year increase of 2.6 percent. While property managers anticipate high turnover in the months of June and September, they might want to consider a slight increase in rent for any open units so properties align with market rates.
Rent is up in most major cities, with the fastest growing rents seen in Reno, Sacramento, Baton Rouge, and Tacoma. Landlords in these cities can enjoy peak prices for rental units throughout this upward trend.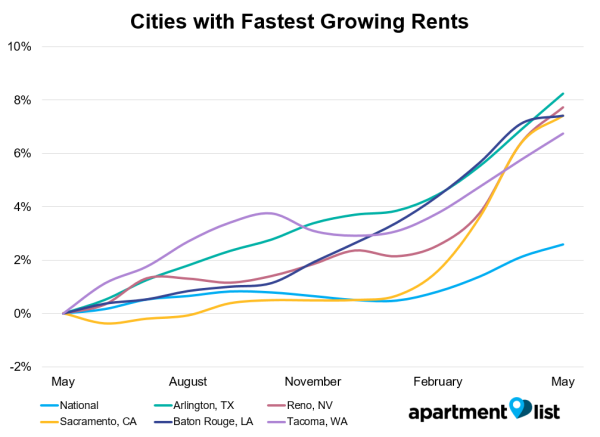 Some Exceptions: The following cities saw the reverse effect and are experiencing rent decline: Anchorage, Buffalo, Cleveland, Des Moines, Tulsa, Oklahoma City, Houston, Corpus Christi, San Jose, Stamford, and Miami.
How the National Rent Report Benefits Property Managers
While it may seem difficult to stay informed of the rental market's upward climbs and downward slides, property managers can consult monthly data findings to make the best decisions for their properties. For example, when national or local rent rates are trending up, property managers can take advantage of this opportunity to earn additional revenue. Informed property managers are likely to course-correct quickly, recognizing that any surplus should be invested back into vacant apartments in the form of high ROI renovations, such as bathroom or kitchen updates. This foresight will ensure that properties continue to look their best and be worth the price increase when its back on the rental market.
Property managers should also consider that existing renters are getting a great deal if rental prices have increased rapidly in their city. Since there is no limit on the amount you can increase rent when a lease expires, you can match your rent with market rates legally. However, tenants may be dissatisfied with the increase and choose to leave. If they are good renters, you may prefer to leave money on the table rather than risking the loss of high-quality tenants.
If you manage property in a city where rent is seeing a decline, it's wise to hold off on a rent increase. Instead, focus on keeping existing tenants happy — and renewing their leases — by incorporating community events and incentives, like a community-wide summer barbecue or outdoor movie night. Another way to cater to your renters is to support the types of technology they prefer. Offer online payment options and encourage communication through text for optimal convenience and improved retention rates.
This same mentality may be advantageous for property managers wanting to attract better residents during seasons of declining rent. Try offering new renters additional perks, like several months of free parking or pet-friendly amenities. For properties that seem to be habitually vacant, property managers can consider using the time to make additional apartment renovations so when the market returns, the units will be more attractive and a better source of revenue.
On the Horizon for July — and Moving Forward
Ultimately, the national rental market is likely to continue its steady rise, following the cycle of upward and downward trends over the years. However, property managers shouldn't wait until the year wraps up before reviewing the data. Regularly informed property managers can utilize these various seasons to increase a property's immediate ROI or invest in its long term value. It may seem daunting to predict the market but the latest findings make it easy to devise quarterly and yearly action plans. You, your team, and high-level stakeholders will be best equipped to meet large-scale goals on the horizon.