Last modified on June 26th, 2017
By Christina Burch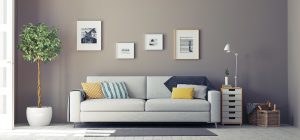 Nowadays, it's rare for a person to use a computer to search for a new apartment.
More and more prospective tenants browse for their new pad on their mobile phone. Regardless of whether they're using an app or a mobile browser, consider how this method of access will affect your listings. In order to make your property truly pop, you'll need to start optimizing your listings for a mobile format.
Use as Many Visual Elements as Possible
Many people who search on their phones are in a hurry and don't want to waste time reading. Instead, they scroll until they see a picture that piques their interest. You'll gain an advantage if you make your listing as visually appealing as possible.
Include Plenty of Photos
It's a fact that beautiful photos attract more attention. People scrolling through content are more likely to stop on a professional-quality picture than a quick and blurry cell phone snap. Photos are your chance to make a good first impression and show the prospective renter what your community has to offer.
Be sure to light your spaces well and prepare them with a little bit of staging. Kitchens and bathrooms do especially well with these easy upgrades. Also, don't forget to include photos of the outside of the building and any unique features in the community, such as a pool or dog park.
Feature the Floor Plan
You can improve upon a prospect's experience by featuring a floor plan, in addition to the usual square footage. This quick peek into the layout isn't always offered so it may give you and your management company a competitive edge.
Incorporate Video
Stand out even further by incorporating a video tour of the apartment or home. This will attract buyers in addition to helping your listing stand out. Very few property managers take the time to film and upload a video tour so your listing will instantly be part of a select few.
Craft a Concise and Compelling Description
It's commonly understood that verbose details may actually detract attention from your rental property. Potential renters don't have the time or patience to sift through laborious copy. Instead, they want to learn about the apartment quickly. Avoid flowery language and keep things short so they can determine if they're interested and take the next step to contact you.
Use Bulleted Lists
Ensure that your copy is easily read by incorporating bulleted lists for important facts. Large blocks of text require continuous scrolling down and are often hard to see on a mobile device. Breaking your information down into easily digestible bulleted lines will cut down on the word count and allow potential tenants to scan for the information they're looking for.
This is also a great way to list the number of rooms, bathrooms, and other notable features.
Avoid Sales Language
Potential renters don't want to feel like they're being sold a new car when browsing for a new place to live. They want to find a place that meets their needs, and they want to be comfortable in the process. Don't use words that cheapen your property or its amenities.
Give Them the Option to Learn More
Apps and listing websites often limit the amount of information you can provide. Prospective renters looking to schedule a walk-through or submit an application usually need to hunt down the property manager and await until an appointment is scheduled. Property managers can completely transform this experience by offering a landing page for each property that supports guest card tracking and additional information that isn't traditionally listed, such as nearby attractions, businesses, and school districts.
Want to ensure that your properties shine on the mobile spectrum? AppFolio's modern marketing tools can help you market your properties professionally and fill vacancies faster.
You Might Also Enjoy:
Who Is Gen Z? Attracting the Next Generation of Renters
Top 5 Websites for Advertising Your Property Listings in 2017
10 Best Practices for Listing Your Properties