Last modified on October 2nd, 2018
By Aimee Miller
How did you find your way to AppFolio?
I worked for ExpertCity (now Citrix Online) from 2002 to 2004 so that was my connection to AppFolio. I was in Portland, OR when I heard about AppFolio through a friend and I was desperate to get back to Santa Barbara. I made the call and came down and after meeting with Brian and Albert I was sold. I think there were about 20 people at AppFolio at that time and I was one of the first on the marketing team. In May, I will have been here 4 years.
What types of projects do you work on at AppFolio?
I work on all of the awesome projects, like this Newsletter! Specifically, I design and administer all of the product websites like AppFolio Property Manager and RentApp, as well as our 5 blogs. I also manage our SEO efforts for these sites. I create all of our advertising whether it is in print or online. Additionally, I created many of our product and customer testimonial videos.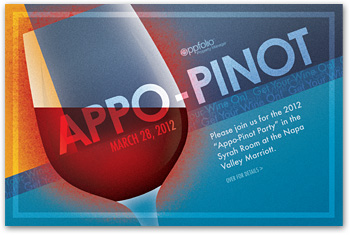 What are your favorite types of projects to work on?
I get excited when the Appo-Tini / Appo-Pinot parties roll around. The invitations to these events are fun because I can cut loose a bit and flex my design muscle. I also enjoy working on the internal projects as well, like developing a logo that a department needs for a team building event. I really appreciate the variety of responsibilities – I'm always challenged with something new.
Where do you draw your inspiration?
I usually start the search for inspiration online. I definitely fall back on my design education and the things I learned from the great artists and designers of the past. I also look to the natural world for new color schemes because they always seem to work. Tropical fish are a good example of this. So far, I haven't seen a color scheme gone wrong in nature.
Can you tell me a little about your tea drinking habits?
I have always enjoyed tea but recently I got into loose-leaf teas. It all started at Savoy Café & Deli in downtown Santa Barbara. I had sampled a number of their teas and decided to make a purchase – it was not a trivial amount. Right now I have 15 different teas including herbal blends, white, green, oolong, black and pu-erh. I find that loose teas are more flavorful and definitely more complex in their flavor. It is kind of addicting because it's fun to try different teas and, of course, there is the whole caffeine component to it.
Your life changed recently with the birth of your first child. How is it going?
His nickname is "the Boss." So now I have a new boss. He is 8 months old, a great sleeper and such a happy little boy. It's a lot more fun than I was anticipating. He has definitely taught me to slow down, and I was always okay with just being there and observing but now it's a little different. Sometimes I just hang out and watch him play, like for an hour or two, because he always wants someone close by or to be held. It can be very meditative in a way. It has helped me to be in the moment even more.